Villa Farnesina is a mansion built between 1505 and 1511 and is one of the most majestic buildings that remain from the Renaissance period in Rome.
Built in the neighbourhood of Trastevere on the orders of a banker from Siena, the villa owes its name to its subsequent owner, Cardinal Alessandro Farnese.
Touring Villa Farnesina
The building consists of a central block, two small wings, and two floors. The interior of the villa is surprisingly richly decorated with frescoes by major artists, such as Raphael, Sebastiano del Piombo and Peruzzi.
On the first floor there are particularly striking frescoes of the Sala di Galatea, one of Raphael's most important works. When observing the ceiling, one can see astrological paintings showing the position of the stars on the day of the birth of Chigi, the villa's first owner.
On the upper floor there is another one of the villa's most beautiful rooms, the Sala delle Prospettive. The room's décor is based on the optical illusion created by the frescoes that show the city of Rome through the marble columns.
Remarkable decor
Villa Farnesina is an important manifestation of the luxury and opulence that predominated in Italian society during the Renaissance period.
Although the building is of unremarkable size and its exterior is not particularly striking, the reason for visiting lies in the frescoes that cover the ceilings and walls that decorate the interior of the villa.
Comparisons are odious, and the paintings of Villa Farnesina are excellent, but they are of little interest when compared to the Borghese Gallery, a beautifully decorated building that also houses different works of art.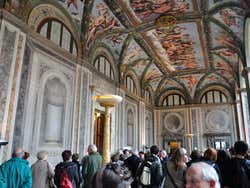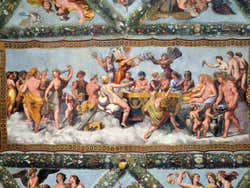 Schedule
Monday – Saturday: 9am – 1pm
Sunday: closed
Price
Adults: € 10 (US$ 10.90)
Students: € 7 (US$ 7.60)
Children under 10: Free
Transport
Buses: 23 and 280