The Basilica di Santa Maria in Cosmedin (Saint Mary in Cosmedin) is a minor basilica built during the Middle Ages, renowned for La Bocca della Verità, located on the north side of the church.
Founded during the sixth century on the remains of the Temple of Hercules Pompeianus, La Bocca della Verità is located on the Forum Boarium.
Interesting facts
The name Cosmedin comes from the Greek word "kosmidion", meaning ornamented, thanks to its beautifully decorated interior. Nowadays, the church is practically bare, although it still has some magnificent elements such as the floor mosaics, the bishop's chair, the baldachin and the medieval choir enclosure.
Another treasure worth discovering is the glass shrine with the skull of St Valentine, patron saint of love, located on the left side of the church.
The restored Medieval façade has a portico with seven arches, in which visitors queue to place their hand in the mouth of the legendary Bocca della Verità (Mouth of Truth). Legend has it that if a person places his or her hand in the mouth of the statue and lies, the mouth will close and cut their hand off.
Next to the church's porch is an impressive Romanesque bell tower built during the twelfth century.
Crypt
The crypt, constructed in the eighth century, is located beneath the altar and was built to store the relics taken from the catacombs by Pope Adrian I.
The crypt is shaped like a small basilica. The side walls have several niches, each with shelves made of marble, where the different relics are displayed.
Definitely worth visiting
The church of Santa Maria in Cosmedin and The Mouth of Truth should be on all the visitor's itinerary.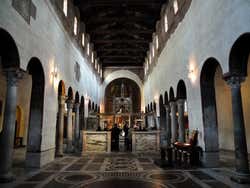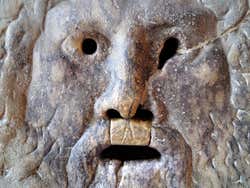 Schedule
Daily: 9:30 am – 5:50 pm
Transport
Buses: 23, 44, 81, 95, 160, 280, 628, 715 and 716.