Standing on the Piazza del Popolo, near the northern gate of the Aurelian Wall, the Basilica of Santa Maria del Popolo is a small temple with a splendid Renaissance decoration in its interior.
Its origins
The origins of the basilica are very unusual. A legend had it that the site where the church was eventually erected was haunted by the ghost of Nero, a Roman Emperor that reigned from 54 to 68 AD. On his burial ground had grown a bewitched walnut tree full of crows.
To put an end to this myth, Pope Paschal II in 1099 ordered the tree to be cut down and commissioned a Romanesque chapel to be built instead. The chapel was enlarged in 1227 and later reconstructed between 1472 and 1477. In 1513, various of the most influential artists of the period, like Pinturicchio, Raphael, Caravaggio and Bernini were requested to decorate the walls and ceilings of the temple.
In its interior
Santa Maria del Popolo's decoration is unlike any other church in Rome. The ceiling, less high than most built during the same period, is practically bare, while the decoration of each of the small chapels is especially remarkable.
Among the beautiful art work found in the church, it is worth highlighting the Chapel Cerasi, which houses two canvases by Caravaggio from 1600, and the Chapel Chigi, built and decorated by Raphael.
If you look closely at the wooden benches, you'll be able to see inscriptions with the names of the people the benches are dedicated to. This custom is also found in a lot of English speaking countries like Scotland or Edinburgh, where the families of the person deceased buy urban furniture in their honour.
Not like any other church in Rome
In Rome it is possible to visit an infinite number of churches, therefore it is worth reading a little about each church and selecting a few that appear most appealing to you, so as not to visit too many. The Basilica of Santa Maria del Popolo is one of these that are definitely worth visiting, not because of its structure or its façade, but because of its impressively decorated chapels.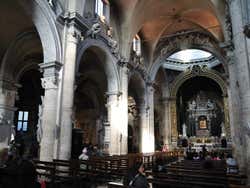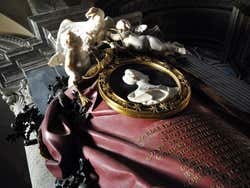 Schedule
Monday - Friday: 7 am to Midday and from 4 pm to 7 pm
Saturdays: 7:30 am to 9 pm
Sundays: 7:30 am to 1:30 pm and 4:30 pm to 7 pm
Transport
Metro station: Flaminio, line A.
Buses: 95, 117, 119, 490, 495 and 926.