Our Lady of the Conception
Our Lady of the Conception of the Capuchins (Santa Maria della Concezione dei Cappuccini), erected between 1626 and 1631, was commissioned by Pope Urban VIII. It is one of the most uncommon churches in Rome thanks to its unusual crypt.
Interior
The interior of this small church stands out because of its bare walls and discreet decoration, which contrasts greatly with the majority of the temples in Rome and their ostentatious ornaments. However, this is not what makes it so special.
The main appeal of Our Lady of the Conception of the Capuchins is found in the church's crypt, where many visitors will feel a chill down their spines as soon as they walk down to the ossuary.
The Capuchin Crypt
After the church was finished in 1631, Cardinal Antonio Marcello Barberini, who was a member of the Capuchin friars, ordered that the remains of the members of his order be moved from the cemetery to the church's crypt.
The bones were to be placed on the walls in a specific way, creating different motifs and designs full of religious symbolism, a site were the friars would come to reflect and pray.    
The crypt is divided into six pocket-sized chapels, decorated with the bones of 4,000 Capuchin friars who died between 1528 and 1870. The effect is as shocking as it is macabre.
As well as the walls covered in individual bones, the chapels also house truely chilling whole skeletons dressed with the Capuchin brown habit. 
Despite what it might seem, the ossuary is an imaginative cult for the dead, which only seeks to demonstrate that the body merely contains the soul.
Very popular
The church of Santa Maria della Concezione dei Cappuccini is usually unnoticed by the crowds of tourists that seek to explore the macabre crypt and its décor of skeletons. Although this is a very unusual and unforgettable experience, it might be unsuitable for overly sensitive people.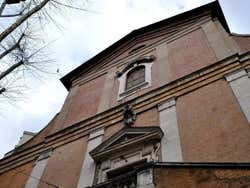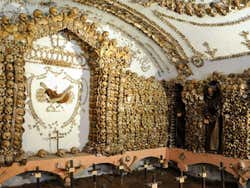 Schedule
Daily: 9 am – 7p m
Price
Museum & Crypt: € 6 (US$ 6.50)
Under 18s and over 65s: € 4 (US$ 4.30)
Transport
Metro station: Barberini, line A.
Buses: 52, 53, 61, 62, 63, 80, 95, 116, 119 and 175.