Have you been told to throw a coin into the Fontana di Trevi? Learn the myth behind this tradition and learn about its history.
Trevi Fountain is the most beautiful fountain in Rome. Measuring some 20 meters in width by 26 meters in height, Trevi Fountain is also the largest fountain in the city.
The origins of the fountain go back to the year 19 B.C., in which period the fountain formed the end of the Aqua Virgo aqueduct. The first fountain was built during the Renaissance, under the direction of Pope Nicholas V.
The final appearance of the Trevi Fountain dates from 1762, when after many years of works at the hand of Nicola Salvi, it was finalized by Giuseppe Pannini.
Interestingly enough, the name of Trevi derives from Tre Vie (three ways), since the fountain was the meeting point of three streets.
The myth of the Trevi Fountain
Why are there always people in the fountain throwing coins into the water and taking photos of themselves?
The myth, originating in 1954 with the movie "Three Coins in the Fountain," goes like this:
If you throw one coin: you will return to Rome.
If you throw two coins: you will fall in love with an attractive Italian.
If you throw three coins: you will marry the person that you met.
In order to achieve the desired effect, you should throw the coin with your right hand over your left shoulder.
An interesting statistic is that approximately a million euros worth of coins are taken from the fountain each year. Since 2007 this money has been used to support good causes.
The most beautiful fountain in the world
For us Trevi Fountain is the most beautiful fountain in the world. Whether under daylight or warmly lit up at night, the fountain is never lonely.
One thing that can dampen the mood is that the area is full of people trying to sell roses in a pushy way, but simply ignoring them is enough to be able to continue enjoying such a special place.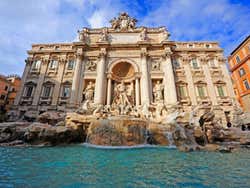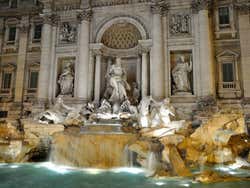 Transport
Metro station: Barberini, line A (red).