Sistine Chapel
The Sistine Chapel is one of the greatest treasures of the Vatican City, of Rome and of the world in general. It is known as much for its decoration, as for being the temple in which popes are chosen and crowned.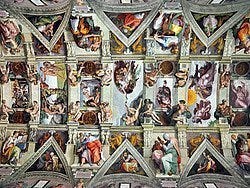 Ceiling of the Sistine Chapel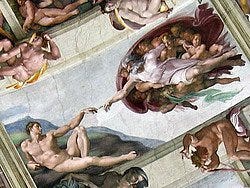 The Creation of Adam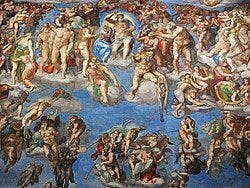 The Last Judgement
The construction of the building was carried out between 1473 and 1481 during the mandate of Pope Sixtus IV, to whom it owes its current name. The architect responsible for the construction was Giovanni of Dolci and it is the only work that he is remembered for.
What grabs the attention in the Sistine Chapel is not its architecture, but the frescoes that completely cover the walls and the ceiling. Some of the most important artists who worked in the chapel are Botticelli, Perugino, Luca and Michelangelo.
The ceiling of the Sistine Chapel
All of the frescoes of the ceiling of the Sistine Chapel are the work of Michelangelo, who spent four years painting the vault between 1508 and 1512.
If there is one thing that stands out from among the images on the ceiling, it is the nine stories from Genesis that occupy the central area: The scenes from the Drunkenness of Noah to the Separation of Light from Darkness are represented.
The Creation of Adam
Without any doubt, The Creation of Adam is the best-known image from the Sistine Chapel. It is located in the central part of the vault and represents the story from Genesis in which God gives life to Adam.
The Final Judgment
Located over the high altar and with some magnificent dimensions (13.7 by 12.2 metres), Michelangelo's other masterpiece, The Final Judgment, is found. It is a fresco that represents the Apocalypse of St. John.
Decorating the apse occupied five years of Michelangelo's life, between 1536 and 1541. It was an assignment of the Pope Paul III to cover the murals that existed to that point.
Location
Inside the Vatican Museums, in the Vatican City.
When to visit
Monday – Saturday: 9 am – 6 pm (Ticket office closes at 4 pm).
Sunday: Closed except the last Sunday of each month: 9 am – 2 pm. (Ticket office closes at midday, 12:30 pm).
1, 6 January: closed
11 February: closed
22 February: closed
19, 28 February: closed
29 June: closed
15 August: closed
1 November: closed
8, 26 December: closed

Fares
Adults: 16€.
Children (ages 6 – 18): 8€.
Students (ages 19 – 26): 8€.
The entrance is free the last Sunday of each month.
Transport
Metro station: Cipro-Musei Vaticani, line A (Orange).
Map
Related activities
SKIP THE LINE

Enjoy a guided tour of the Vatican Museums, the Sistine Chapel and St Peter's Basilica with skip the line admission with a group that never exceeds 35 people!

3 hours

61.5$