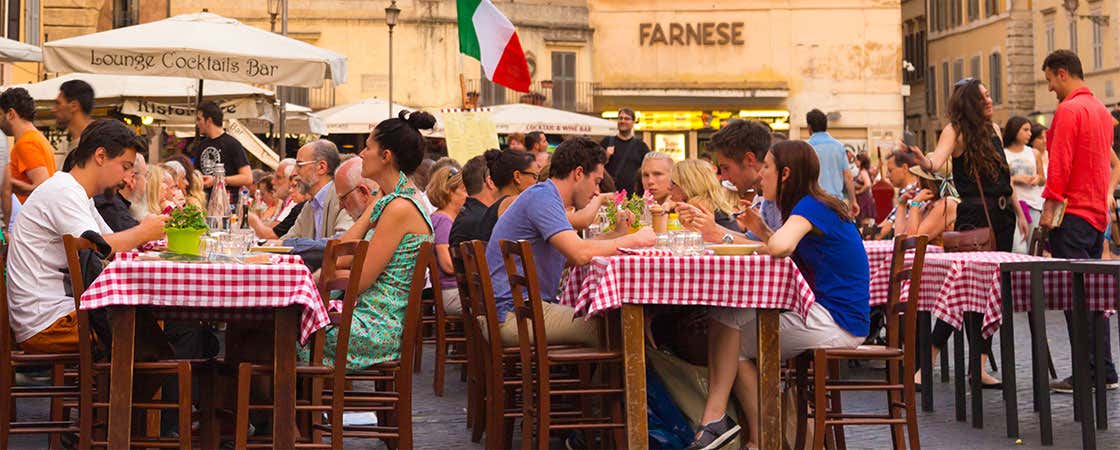 Discover Rome's traditional cuisine and a list of our favorite restaurants. Once you get to this destination, don't forget to try its most famous products such as limoncello, ice-cream, Roman style pizzas or a good cappuccino. 
Italian cuisine is one of the most famous worldwide with an extremely rich variety of dishes and ingredients. Proof of this is that, nowadays, it is practically impossible to find someone who has not tried pizza, ravioli or lasagne.
Besides the different types of pasta and pizza, Rome has many other traditional dishes, including the bruschetta (toasted bread with oil, garlic and salt), the panini (a traditional Italian sandwich), the meat and fish seasoned with spices (such as the famous dishes 'a la Milanese'), the carpaccio, the cheese (especially pecorino) and the cold meat (bresaola, mortadella, prosciutto and saltimbocca).
Roman cuisine
Italian restaurants in Rome will have a selection of mouth-watering dishes to choose from, from colourful salads to tasty meat recipes and fish platters. Nevertheless, if you are too impatient to wait to get to Rome to discover some of the city's best dishes, here is a list of the most typical meals, desserts and drinks:
Carpaccio: Thinly sliced raw meat or fish sprinkled with olive oil and lemon.
Insalata caprese: Mozzarella cheese with tomato.
Frutti di mare: Shellfish.
Bresaola: Salted beef which has been air-dried.
Prosciutto: Cured Italian ham.
Risotto: Rice cooked in a broth with a variety of ingredients.
Gnocchi: Soft dumplings made out of potato.
Saltimbocca: Traditional dish of veal with prosciutto, sage or basil on top.
Tiramisú: Coffee-flavoured dessert with mascarpone, eggs, sugar and cocoa.
Zabaione: Dessert or drink made with egg yolk, sugar and sweet wine.
Panna cotta: Dessert made of gelatine, sweetened cream and fresh berries.
Babà: Also called Rum baba is a cake traditionally from Naples soaked in rum.
Limoncello: A very common liquor from the south of Italy obtained by soaking lemons in alcohol.
Sambuca: A anise-flavoured liquer.
Grappa: Grape-based pomace (discarded grape seeds) brandy.
Campari: Liqueur used as an apéritif made from herbs and fruit.
Ice cream
Ice cream (gelato) is renowned in Italy, from Venice to Sicily and Rome is no exception. The city is filled with homemade ice cream parlours opened all year round , and visitors cannot miss out on trying this delicious sweetened frozen food.
Prices
Depending on your budget, it is possible to find all types of restaurants to cater for your needs. The following are ordered from the most expensive to the cheapest option to eat out in Rome:
Restaurants: These serve all types of Italian food from vegetarian dishes to meat and fish dishes.
Trattorias: Trattorias can be defined as small family restaurants. In these establishments it is quite common to ask for a single dish accompanied by a drink.
Pizzerias: These are normally cheap restaurants that specialise in pizza. If the weather is good, why not order a pizza to go and eat it in one of the city's lively piazzas?
Pizza al Taglio or Pizza al Trancio: These restaurants sell large trays of rectangular pizza cut in square slices with thick crusts. They have a large variety of toppings, which are sold by weight. It is a good fast food option at lunchtime but, if you are looking for quality, pizzas made on the spot are usually the best choice.
In Rome, it is very common to be asked to sit next to others on a same table.
Opening times
Lunch is usually served from 1 pm to 3 pm and dinner from 8 pm to 11 pm.
Neighborhoods
Although all areas of the city are full of restaurants and take aways, some of the best places to eat out in Rome are the streets surrounding the Trastevere, which is packed with traditional Italian restaurants, or Piazza Navona, Campo dei Fiori, or the Pantheon. The streets in these areas have charming, authentic restaurants with terraces in which visitors can enjoy a delicious meal while watching the people go by.