Built between the years 100 and 110 A.D, Trajan's Market is believed to be the first covered shopping mall in history. 
Situated on Via dei Fori Imperiali, Trajan's Market is an archaeological complex that currently holds the Museum of Imperial Forums (Museo dei Fori Imperiali). It's considered to be Rome's first "shopping center".
The complex, made of red brick and concrete, had six levels where there were once up to 150 different shops and apartments.
Museo dei Fori Imperiali
When you visit the Imperial Forum Museum, you can stroll through Mercati di Traiano's various levels, as well as admire several exhibitions that show the Imperial Forums' different aspects.
The exhibitions are comprised of models and videos that accompany the various remains that are left from the Imperial Forums to try to transport visitors to classical Roman times.
Rome's commercial past
Although it does not enjoy as much fame as the Colosseum, Trajan's Market maintains an important part of its original appearance and offers a really interesting visit.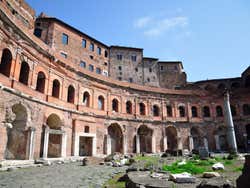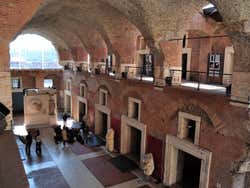 Schedule
Tuesday – Sunday: 9 am – 7 pm
Monday: closed
Price
Adults: € 13 (US$ 14.10)
Citizens of EU countries (aged 18 – 24): € 11 (US$ 11.90)
Transport
Metro stations: Colosseo or Cavour, line B
Bus stop: Piazza Venezia. Lines: 117, 40, 60, 64, 70, 170, H, 53, 80, 85, 87, 175, 186, 271, 571, 810, N7, N8, N9, N15, N18