Piazza di Spagna & the Spanish Steps
A magnificent example of Italian Baroque style, Piazza di Spagna and its "Scalina Spagna" is one of the most-visited squares in Rome.
The Piazza di Spagna (English: Square of Spain) is one of Rome's most renowned squares. The name comes from the Palazzo di Spagna, the seat of the Spanish Embassy for the Vatican located on this square since the seventeenth century.
The Piazza di Spagna is found in one of the most popular neighborhoods of Rome, near the high streets Via dei Condotti, Via Frattina and Via del Babuino, which houses several impressive seventeenth and eighteenth century villas.
If you walk down Via del Babuino, you'll arrive at Piazza del Popolo. In the centre of the square is the Flaminio Obelisk, one of the tallest obelisks in Rome, which was housed in the Circus Maximus.
To get some of the best views of Rome, climb the steps from Piazza del Popolo to the top of Pincian Hill.
Spanish Steps
The Spanish Steps (Scalinata di Trinità dei Monti in Italian) were built at the beginning of the eighteenth century connecting Piazza di Spagna and the Church of Trinità dei Monti. It is one of the most famous parts of Rome.
Every July, the square and the 135 steps are decorated to receive the Donne Sotto le Stelle fashion show.
The staircase is a favourite spot among tourists to sit, relax and enjoy the views of Piazza di Spagna.
Fontana della Barcaccia
The Fontana della Barcaccia (Fountain of the ugly boat) was designed by Pietro Bernini, father of the famous Gian Lorenzo Bernini, who later helped with the creation. It was finished in 1627 and placed by Pope Urban III in the centre of Piazza di Spagna.
The Fontana della Barcaccia is shaped as a boat and has the emblems of the Barberini family (the Noble family of Pope Urban III), bees and a sun engraved.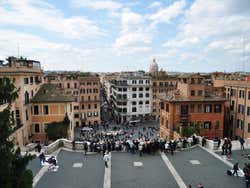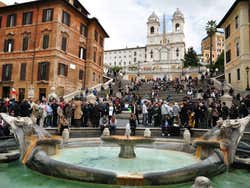 Transport
Metro station: Spagna, line A (Orange).