Area Sacra di Largo Argentina
The Area Sacra is the place in which the ruins of the oldest temples in Rome are found. Currently the area is dominated by hundreds of cats that live among the ruins of the buildings.
The discovery
The Area Sacra was discovered between 1926 and 1930 during construction work on a building. The area was occupied by four temples built in the third century B.C., and by the Theatre and Curia of Pompey, the place in which Julius Caesar was murdered.
As it's not known to whom the temples were dedicated, they were renamed with the letters A, B, C, and D.
The city of cats
Since the first excavations in the Area of Sacra were carried out, hundreds of cats have decided to make the area their home. Nowadays it's very common to see them walking calmly, feeling protected among the ruins.
Next to the iron gates that protect the zone, signs can be seen indicating that the cats are welcome and that they should not be mistreated. These cats are some of the most respected inhabitants of the area.
Recommended, especially at night
The other remains of the temples that are preserved in the Area Sacra make up one of the most interesting areas of Rome. The ruins are especially pretty with the golden lighting that decorates them at night, while the cats hide among the shadows of the old buildings.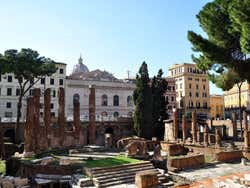 Transport
Buses: 40, 46, 62, 64, 70, 81, 87, 186, 492 and 810.