The Church of the Gesù was the first jesuit church in Rome, and is one of the most striking examples of barroque Roman art.
Erected between 1568 and 1584, Il Gesù was the first Jesuit church built in Rome. It was lavishly decorated during the seventeenth century. Nowadays, the Church of the Gesù (Chiesa del Gesù) is considered to be one of the best examples of Roman Baroque architecture.
In its interior
Il Gesú was built with small chapels instead of aisles, designed specially so that the members of the church are all facing the main altar.
One of the most striking parts of the temple is the ceiling fresco painted by Baciccia (Giovanni Battista Gaulli). The fresco manages to look three dimensional thanks to the wooden figures and stuccos added to the fresco.
Located in the chapel of the Madonna della Strada there is a small icon of the Madonna della Strada. The icon was built on the same site of Il Gesù and dates from the fifteenth century. It had originally been part of the church, which has the same name.
The Chapel St Ignatius of Loyola (founder of the Jesuits) is a prime example of the Roman Baroque architecture. In this chapel the tomb of the saint is decorated with silver, gold, bronze, marble and some special stones.
In the right transept is the altar of Saint Francis Xavier, one of the founders of the Jesuits.The altar features Jesus with St Ignatius and it has a silver reliquary with part of the saint's right arm.
In the heart of the city
Il Gesù is not one of the most impressive churches in Rome, but its decoration and chapels are interesting to see. Another advantage is that is located in the heart of the city, near Piazza Venezia.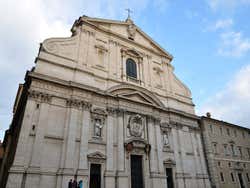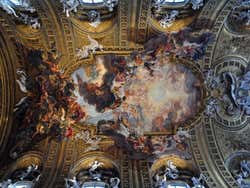 Schedule
Every day: 7 am to 12 pm and 6 pm to 7:30 pm