Villa Borghese of Rome is one of the largest urban parks in Europe. The State acquired the gardens from the Borghese family in 1901 and opened them to the public on 12 July 1903.
What differentiates Villa Borghese from other large parks such as Hyde Park or Central Park is the perfect combination between nature and Roman art. Villa Borghese is home to interesting architectural elements, sculptures, monuments and fountains created at different times by famous artists.
Points of interest
Borghese Gallery: One of the most important museums in the Italian capital. It contains paintings from artists such as Raphael, Titian or Caravaggio.
Rome Zoo: Known as the Bioparco, Rome Zoo contains more than 1,000 animals from 200 different species.
Pincio's Water Clock: Still fully functioning today, this clock is an example of 19th century engineering.
Silvano Toti Globe Theatre: A replica of Shakespeare's Globe Theatre in London.
A well-deserved break
If you have enough time in Rome, travel with children or are looking for a little relaxation, the Villa Borghese is a mandatory stop in your itinerary.
If you want to tour the Villa Borghese and take advantage of the time to do some exercise, it is possible to rent rollerblades, bicycles and other forms of transportation at the main gates.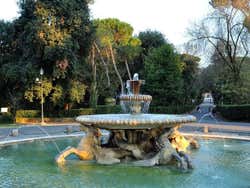 Schedule
Open from dawn to dusk