Created in 1899, the Etruscan Museum of Villa Giulia houses works from pre-Roman Italian antiquity, especially from the Etruscan world.
The building
Built for Pope Julius III between 1550 and 1555, Villa Giulia is a magnificent Renaissance palace built in what once were the outskirts of the city. The museum is known for its extensive art collections, but mostly for beauty of the building and its lovely gardens.
Exhibitions
The museum's works are spread over two floors and are arranged according to period and place of origin. The collections include pottery, funeral urns, jewellery, bronzes and sculptures.
Among the museum's most valuable objects are a sarcophagus from the year 520 BC, as well as several terracotta figures such as the Apollo of Veii and the image of Hercules and Apollo vying for the deer, both from 510 BC. The museum also presents a great collection of precious objects from antiquity to the 19th century.
Highly recommended
A visit to the Villa Giulia is very interesting, not only because the objects on display are very unique and varied, but also because a visit to the mansion and gardens is quite pleasant.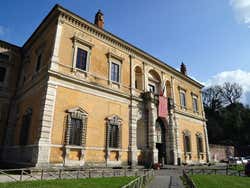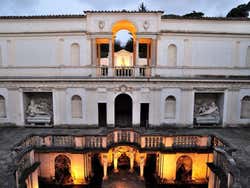 Schedule
Monday – Saturday: 9 am – 8 pm
Sunday: closed
Price
Adults: € 10 (US$ 10.80)
Students: € 2 (US$ 2.20)
Transport
Tram stop: Museo Etrusco Villa Giulia line 19
Buses: 52, 88, 95, 490, 495 and 926.