Santa Maria della Vittoria
Santa Maria della Vittoria, Our Lady of Victory in English, is a basilica dating from the seventeenth century. It was built to commemorate Emperor Ferdinand II's victory at the battle of White Mountain.
It was erected to commemorate the victory of Emperor Ferdinand II at the battle of White Mountain, which marked the end of the Bohemian period of the Thirty Year's War.
The basilica has become extremely popular since it appeared in the novel Angels & Demons, written by the American author Dan Brown.
In its interior
Although the church's façade isn't very impressive, its interior is extravagantly decorated. Since there is very little natural light inside the church, it is filled with candles, which create a very special atmosphere.
One of the most notable parts of the church is the Cornaro Chapel that houses the "Ecstasy of Saint Teresa", a sculpture by Bernini. This figure is considered to be a sculptural masterpiece of the Baroque period.
The interior of Santa Maria della Vittoria suffered a fire in 1833 and had to be restored. However, nowadays it is completely reconstructed.
The Fountain of Moses
Near the Basilica Santa Maria della Vittoria stands the grandiose Fontana dell'Acqua Felice, in English the Fountain of Moses. It was designed to symbol the end of the Acqua Felice aqueduct.
Although this fountain is not very popular among the Romans on account of its disproportion and its sheer size, it is an imposing architectural ensemble worth taking a look at.
Impossible to visit all the churches in Rome
Because of the vast number of churches in Rome, it is impossible to visit them all. Although Santa Maria della Vittoria is beautifully decorated, we would only recommend going to this basilica if you're in Rome for a long holiday.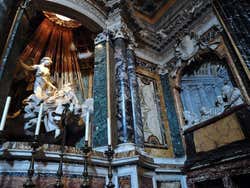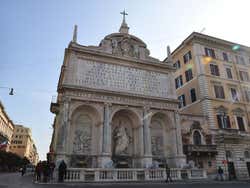 Schedule
Every day: 7 am - midday and 3:30 pm - 6 pm
On Sundays, the church can be visited except during religious celebrations
Transport
Metro station: Repubblica.
Buses: 60, 61, 62, 84, 492 and 910.