The Rome Pass card is a tourist card that gives you reduced-price tickets to the major attractions in the city and unlimited use of the public transport for two or three days, depending on the card you purchase.
What does the Pass include?
Visitors can either buy a 2-day or a 3-day pass. Find out what each card includes to decide which one you prefer getting:
Roma Pass 72 hours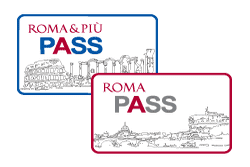 Roma Pass
Roma Pass 48 hours
With both cards visitors will be given a map, and if you purchase the 72-hour pass you will also be given a guide of Rome.  
How to use it
As soon as you are given the tourist card, you need to fill it out with your personal information: name, surname and date of validation. The best date to write is the date when you use it for the first time. It will be activated when you first use it or when you first use any of the means of transport.
When you visit the first museum/monument (or the first two in the case of the 3-day Roma Pass) head directly to the entrance rather than going to the ticket office. From the second/third visit depending on the pass you've bought, you will need to show your card and an ID at the ticket office when purchasing the entrance tickets.
The Rome Pass has a validity of 2 or 3 days from its first use and expires at 11:59 pm on the second or third day. You should activate the card in the morning in order to make the most of your pass.
Prices
The 2 day Rome Pass costs € 32 (US$ 34.40) and the 3 day pas is € 52 (US$ 56).
Where to purchase the pass
The Rome Pass can be bought in tourist information offices and in all of the participating museums and monuments. If you would rather not wait to arrive at the centre, you can find information centres in Fiumicino and also in Ciampino Airport.
The Rome Pass is available at any tourist information point or any of the museums or monuments included in the card. If you would like to purchase the card as soon as you land, you'll find tourist information offices at Fiumicino and Ciampino Airport.
Attractions
These are some of the top attractions included in the card:
For the whole list of attractions, check out the official website of Roma Pass
Is it worthwhile?
The Rome Pass is worthwhile if you are over 25 and under 65. The entrance tickets to the Colosseum and to the Capitoline Museums alone are worth the price of the card. Besides these attractions, you can use the public transport system and get discounts in the following visits that you make.