Located just off Piazza Venezia, in the heart of Rome, the Palazzo Venezia is a Renaissance style mansion that features art objects dating from the beginning of the Commor Era to the early Renaissance.
The palace
Built during the fifteenth century as a residence for Cardinal Pietro Barbo, the Renaissance building of Palazzo Venezia later became the papal residence and the Embassy of the Republic of Venice.
In 1797 it fell into French hands, but in 1916 it became property of the Italian state. It was converted into Mussolini's headquarters during the Fascist era.
Exhibitions
The museum mainly displays the collections of Pope Paul II (Pietro Barbo), the first pope to inhabit the building. There are also works of art from Castel Sant'Angelo, the museum of the Collegio Romano or the Galleria Nazionale d'Arte Antica.
In the palace you can find many different items, from Renaissance paintings to polychromatic wood sculptures, tapestries, weapons, armour, and terracotta sculptures.
Another palazzo
In Rome there are numerous restored villas, which have been converted into museums housing variousart works from several centuries.
Since there are so many, we would recommend only visiting a few, except of course, if you are staying in Rome for a long period of time and have more time to discover the city. Palazzo Venezia might be good to leave for a second visit.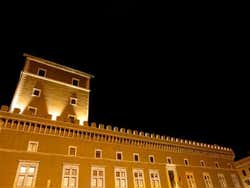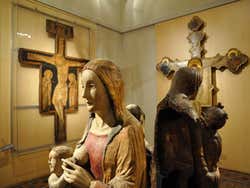 Schedule
Monday – Saturday: 10am – 1pm and from 2pm – 6pm
Sunday: closed
Price
Adults: € 12 (US$ 12.80)
EU Citizens (ages 18 – 25): € 2 (US$ 2.10)
Children under 18: Free
Transport
Buses: 40, 63, 70, 75, 81, 87, 95, 160, 170, 204, 628, 630 and 716.