Piazza del Quirinale & Palazzo del Quirinale
Found on the tallest of the seven hills of Rome, Quirinal Hill, the Piazza del Quirinale offers breath-taking views of the city. Magnificent buildings surround three sides of the square.
Obelisk and the Fontana di Castore e Polluce
One of the most striking elements of the square is the obelisk, which is located next to the statues on which Castor and Pollux, patrons of horse riders, are taming several horses.
One of the most striking elements of the square is the obelisk with a fountain located at its feet. On either side of the monument there are two statues of Castor and Pollux, each flanked by a horse. These twin brothers from the Roman mythology were considered the patron gods of horses.
Before being relocated to Piazza del Quirinale, the statues had decorated the entrance of the Baths of Constantine and the obelisk had stood on the Mausoleum of Augustus.
Palazzo del Quirinale
Designed as a summer residence for Pope Gregory XIII in 1573, the Palazzo del Quirinale became the royal family residence after the unification of Italy. After Italy had become a republic, the palace became the presidential home in 1947.
Changing of the guard
The changing of the guard ceremony takes place every day at 3pm in front of the Palazzo Quirinale.
Although not as famous as the changing of the guard in London, it is worthwhile seeing the ceremony and enjoy the festive music played by the band.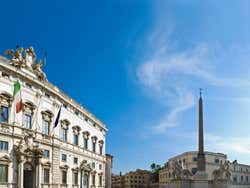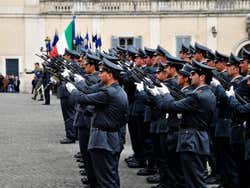 Transport
Metro station: Barberini, line A.