Ara Pacis
The Ara Pacis is a commemorative monument that was built between the years 13 and 9 B.C. to celebrate peace in the Mediterranean after the victorious battles of Emperor Augustus in Hispania and Gaul.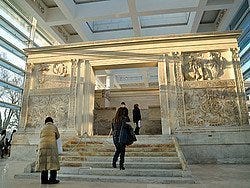 Ara Pacis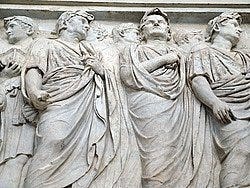 Altar of Augustan Peace
The monument, which is an altar located in the interior of a closed structure carved in Carrara marble, stands out with its impressive decoration made up of various reliefs showing the family of Augustus in procession, in addition to different allegories related to the mythical foundation of Rome.
The Ara Pacis in the past
Erected in the Campus Martius, the Ara Pacis was dedicated to the goddess of Peace, in honour of whom each year a ram and two oxen were sacrificed there.
The altar was located in such a way that the shadow of the great obelisk located in the Campus Martius was projected on the Ara Pacis on the birthday of Augustus.
Due to the expansion of the river the altar was submerged in mud, where it remained for more than one millennium. It was not until the 16th century that part of the remains were found and in 1938 its reconstruction was carried out, preserving it until the present day.
The Ara Pacis today
Although the Ara Pacis is one of the most significant monuments of Ancient Rome, it is the only thing that is exhibited in the interior of the museum, making an entrance ticket quite expensive. It is best to look at the altar from the outside, as the building that contains it is made of glass.
Location
Lungotevere en Augusta. Next to the Piazza Augusto Imperatore.
When to visit
Tuesday – Sunday: 9 am – 7 pm
Fares
Adults: 8,50€
EU citizens (aged 18 – 24): 6,50€

Transport
Buses: 70, 81, 117, 119, 186 and 628.
Map
Hotels nearby