Rome's trams are usually cleaner than the buses and are also considered by many more romantic. Nonetheless, the tram lines are small and the fact that the network doesn't get to the city centre makes it less appealing for visitors.  
Tram lines
The tram network in Rome has six lines: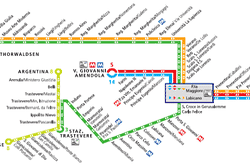 Rome Tram Map
Line 2: Piazza Mancini – Piazzale Flaminio.
Line 3: Piazza Thorwaldsen – Trastevere.
Line 5: Giovanni Amendola – Piazza dei Gerani.
Line 8: Torre Argentina – Trastevere.
Line 14: Giovanni Amendola – Palmiro Togliatti.
Line 19: Piazza Risorgimento – Piazza dei Gerani.
It is important to point out that most of these lines, do not hold a lot of special interest for tourists. The best line for travellers is actually number 8, which links Trastevere with Largo di Torre Argentina.
Opening times
Trams run from 5:30 am until midnight every day, like the city buses in Rome. At night, the trams are replaced by night buses.
Remember to validate your ticket
Remember when you get on any tram to validate your ticket at their validation machines, otherwise you will be fined.
Journey planner
If you want to find out more about the different tram lines in Rome, or would like to plan a journey, check out the official bus website:
Fares
If you'd like more information on the fares, discounts and the several travel cards, check out our article on tickets and travel cards in Rome.