Situated near the Appian Way, the Baths of Caracalla are one of the largest and most impressive thermae built in antiquity in Rome.
Built between the years 212 and 216 under the direction of Marcus Aurelius Antoninus Augustus, more commonly known as Emperor Caracalla, the Baths of Caracalla were one of the greatest and most spectacular thermal complexes in ancient times.
In spite of the fact that today only the brick walls and large collapsed vaults remain, the remnant of the splendour of the Baths of Caracalla is still preserved.
The splendour of the baths
Going to the baths was a favourite pastime of the Romans, who visited them regularly both to maintain their hygiene and to improve their social relations.
In the vast precinct that held the baths, the citizens could not only use the public baths, but also dedicate their time to doing exercise, visiting the library, walking through the gardens or worshiping to the god Mithras and other pagan divinities by visiting the temple.
The baths make up an architectural wonder when you keep in mind the date of their construction, since they included effective water supply systems, as well as heating and drainage systems. The wood-fired ovens that were fed by the slaves served to heat the floors and walls of the baths, in addition to the water.
Covered with marble and decorated with valued works of art, the Baths of Caracalla were the most sumptuous baths to be built in ancient times.
Although subsequently they were surpassed in size by the Baths of Diocletian, these were not capable of matching their splendour.
After remaining in operation for more than three hundred years, the baths were closed by necessity in the year 537, when the aqueducts that supplied water to the city were destroyed by the barbarians. The sculptures and valuable materials that decorated the baths were plundered and subsequently, in the year 847, an earthquake shook the building and destroyed part of it.
The baths today
In spite of the passing of centuries and of the lootings that the baths suffered, the ground floor of the buildings and a large part of the impressive walls that formed the precinct remain. By using your imagination it is possible to submerge yourself in the splendour of ages past.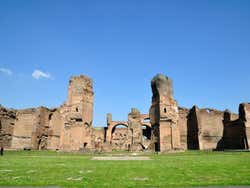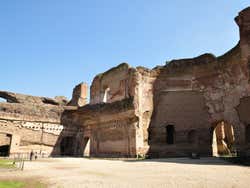 Schedule
Tuesday – Sunday: 9am – 6:30pm
Monday: 9am – 2pm
Price
Adults: € 13 (US$ 14.10)
EU citizens (aged 18 – 24): € 7 (US$ 7.60)
EU citizens aged less than 17 and older than 65: free entrance
Transport
Metro station: Circo Massimo, line B.
Buses: 118, 160 and 628.