Keats-Shelley House
The Keats-Shelley House is a museum dedicated to the Romantic poets John Keats and Percy Bysshe Shelley. Located in a building east of the Piazza di Spagna and the Spanish Steps, the museum contains many reminders of the lives of both poets and other writers of the time.
History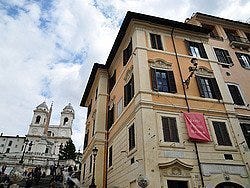 Keats-Shelley House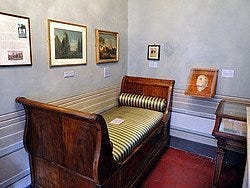 Bedroom in Keats-Shelley House
In November 1820, the English poet John Keats moved to Rome believing that the warm Italian climate would improve the health problems he suffered due to tuberculosis. Within less than a year he died in the same house where he lived, and in accordance with the laws of the time, his belongings were burned to prevent the spread of the disease.
In 1906 the house was purchased by an American poet who restored it and turned it into the memorial it is today. During World War II, the house had to be hidden to prevent its destruction and the objects that were kept were sent to an abbey, where they remained hidden until 1944.
Exhibitions
The Keats-Shelley House has a large collection of manuscripts, first editions, sculptures and paintings depicting the lives of the poets to which it pays homage. The house also has one of the finest libraries of Romantic literature in the world, to which thousands of volumes are added every year.
Neither good nor bad
Unless you are passionate about literature, do not waste a single minute visiting this museum.
Location
Piazza di Spagna, 26.
When to visit
Monday – Friday: 10 am – 1 pm and 2 pm – 6 pm
Saturday: 11 am – 2 pm and 3 pm – 6 pm
Sunday: closed

Fares
Adults: 4,50€
Youth (less than 18) and Seniors (over 65): 3,50 €
Children (less than 6): free entrance

Transport
Metro station: Spagna, line A.
Map
Hotels nearby