Located at the beginning of Via Flaminia, the Piazza del Popolo is where foreigners arrived in the city during the era of the Empire. 
The Piazza del Popolo (meaning The People's Square) is located inside the northern gate of the city, which was once called Porta Flaminia. The square is situated at the beginning of Via Flaminia and was the main entrance to the city during the Roman Empire.
Once on the main route to the north, Piazza del Popolo is still strategically located. Three important streets part from the square: to the left, Via del Babuino; to the right, Via di Ripetta and to the centre the Via del Corso, one of the main high streets of Rome.
What to see
An Egyptian obelisk dedicated to Ramesses II, called Flaminio Obelisk, is located at the centre of the piazza. Erected in the Circus Maximus during the tenth century, it was transferred to Piazza del Popolo in 1589.
Many visitors come to Piazza del Popolo to see Santa Maria del Popolo, a basilica that features two magnificent canvases by Caravaggio and splendid Renaissance decoration.
Two other churches look onto the square; Santa Maria dei Miracoli and Santa Maria in Montesanto. These two temples look identical from the exterior, but hide several differences inside.
Visitors can get an impressive view of the piazza by climbing the stairs, located on the east side of the square, to Pincio Park.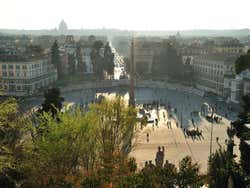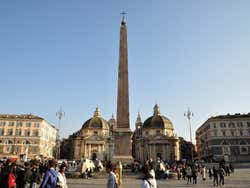 Transport
Metro station: Flaminio- Piazza del Popolo, line A.
Tram stop: Flaminio, line 2.