Named after the Barberini family, Piazza Barberini is especially renowned for its centerpiece, the Fontana del Tritone, which was designed by the sculptor Bernini.
The Piazza Barberini, built in 1625 on the orders of Cardinal Francesco Barberini, is located at the end of Via Venetto. It is particularly striking due to the two fountains built by Bernini.
A short distance from the square is the Palazzo Barberini, a splendid Baroque palace that houses the Galleria Nazionale d'Arte Antica.
The Fountains of Piazza Barberini
In the centre of the square stands the Fontana del Tritone, sculpted in 1643. Four dolphins hold up Triton, god of the sea, as he makes a jet of water shoot forth from a seashell. The fountain, made of travertine (sedimentary rock), is one of Bernini's most notable ones.
Hidden in one of the corners of the square is the Fontana delle Api (Fountain of the Bees), which is one of Bernini's more modest works. Built in 1644 in honour of Pope Urban VIII, the fountain is decorated with large bees, which are the emblem of the Barberini family.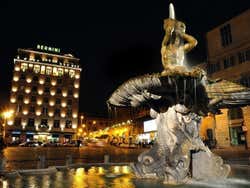 Transport
Metro station: Barberini, line A.
Buses: 52, 53, 56, 58, 58, 60, 61, 95, 116, 175, 492 and 590.