Designed during the urban redevelopment undertaken after Rome was declared capital of Italy, the Piazza della Repubblica is one of the most important squares of the city, and extremely striking.
The Piazza della Repubblica is made up of a large roundabout with an exquisite fountain, surrounded by imposing buildings on one side and a seemingly demolished temple on the other.
It was formerly known as the Piazza dell'Esedra because it was laid down on the remains of an exedra (a semi-circular open room with seating) from the Diocletian era.
Fontana delle Naiadi
At the centre of the Piazza della Repubblica stands the majestic Fontana delle Naiadi. It was constructed between 1870 and 1888 and decorated with four lion sculptures. In 1901 the lions were replaced by the statues of four nude Naiads (water nymphs). Their nudity was subject of much controversy at the time.
One of the most beautiful squares
The Piazza della Repubblica is a main point of interest in the city. After visiting the square and discovering its grandiose buildings and romantic Fontana della Naida, we recommend walking to the nearby Baths of Diocletian and visiting the Basilica of Santa Maria degli Angeli.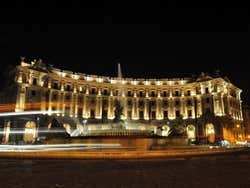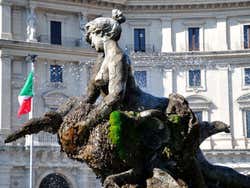 Transport
Metro station: Repubblica, lines A and B.
Buses: 36, 60, 61, 62, 64, 84, 90, 170, 175, 492, 640 and 910.