Erected during the fifteenth century by the Riario family and refurbished a century later under the orders of Cardinal Marco Sittico Altemps, the Palazzo Altemps opened in 1997 as part of the National Museum of Rome.
The exhibits
The Palazzo Altemps houses an important collection of Greek and Roman sculpture that belonged to several families of the Roman nobility between the sixteenth and seventeenth centuries. The works are on display in beautiful rooms decorated with frescoes on the walls and ceilings.
The figures belonging to the Altemps Collection are also on display in the lovely patio and next to the monumental staircase. Although Cardinal Altemps's collection includes over 100 works, many of them are displayed in other museums, such as the Louvre.
The Boncompagni Ludovisi collection spans most of the museum. It consists of more than 100 works, including The Galatian Suicide and the remarkable Grande Ludovisi sarcophagus.
The palace also displays a major collection of Egyptian art, as well as collections that belonged to the Mattei and Del Drago families.
Perhaps one of the most striking parts of the museum is the Church of San Aniceto, a small and pleasant church located within the building.
A mandatory visit
The Palazzo Altemps is one of the best museums in Rome, and it has the added advantage of its entry fee being included with that of the other branches of the National Museum of Rome.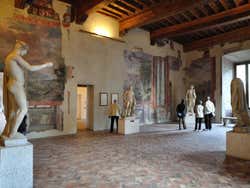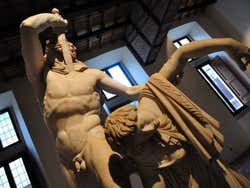 Schedule
Tuesday – Sunday: 9am – 7:45pm
Monday: closed
Price
Adults: € 7 (US$ 7.50)
EU citizens (ages 18 – 24): € 3.50 (US$ 3.80)
Youth (less than 17) and Seniors (over 65): free entrance
The entrance is valid for the four buildings of the National Roman Museum.
Transport
Buses: C3, 30, 70, 81, 87, 116, 130, 186, 492 y 628.