Janiculum Hill
Janiculum Hill, considered the eighth hill of Rome, is a peaceful and fresh location which is a pleasure to stroll around while enjoying superb views of the city.
Janiculum became very popular due to the important historical role that it played in the defence of the city. Becoming the setting for the battle in which Garibaldi repelled an attack from French troops, the top is full of sculptures in its homage.
What to see in Janiculum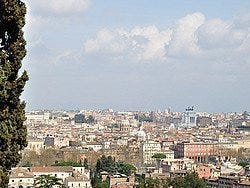 Views of Rome from Gianicolo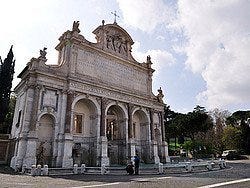 Fontana dell'Acqua Paola
Janiculum is a very pleasant location to stroll around while enjoying a festive atmosphere that is removed from the hustle and bustle of the city. Usually there are activities for children, such as puppet shows or pony rides.
Some of the most interesting places that can be visited in the top of the hill are the following:
Fontana dell'Acqua Paola: This is a monumental marble fountain created during the 17th century to celebrate the reopening of an old Roman aqueduct.
Manfredi Lighthouse: The beautiful lighthouse which was built in 1911 was a gift from Italians who migrated to Argentina.
Church of San Pietro in Montorio: Founded as part of a convent for Franciscan monks, the church is open to the public to this day. On its patio you can find the Tempietto del Bramante, a small temple erected on the place where St. Peter was crucified.
Garibaldi Monument: This equestrian statue that is cast in bronze and represents Garibaldi, forms part of the commemorative park recalling the events that took place in the Janiculum during the French army's assault of Rome in 1849.
Location
Piazzale Giuseppe Garibaldi
Transport
Buses: 115, 870, 710, 984, 116T
Map
Hotels nearby