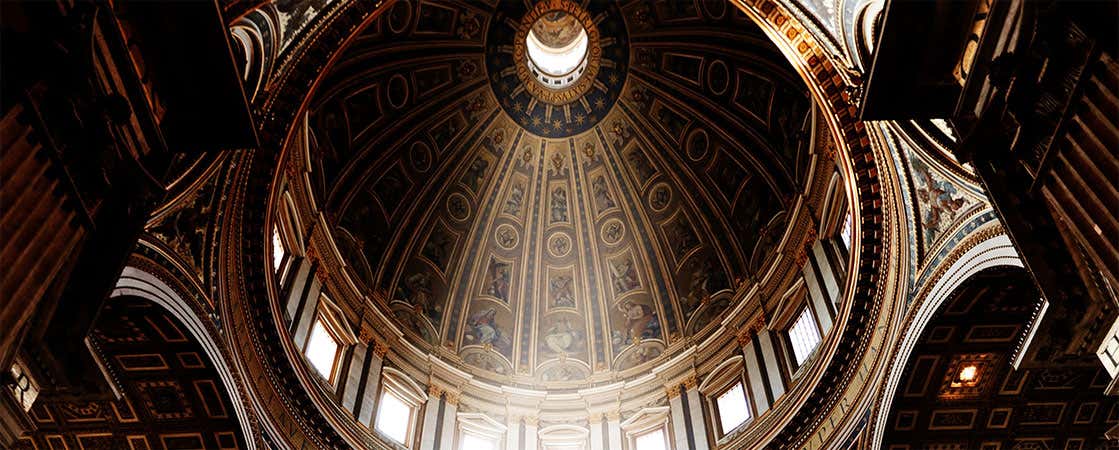 St Peter's Basilica, located in the Vatican City, is considered one of the Catholic Church's holiest temples and an important pilgrimage site.
St. Peter's Basilica is one of the holiest temples for Christendom and one of the largest churches in the world. Besides, it's where the Pope presides many liturgies all year round.
The construction of the new basilica began in 1506 when the old basilica had been torn down and was finished in 1626. It was consecrated on 18 November 1626. Several renowned architects designed the temple, highlighting the works of Bramante, Michelangelo, and Carlo Maderno.
The basilica was called St Peter's after one of Jesus's twelve disciples known as Saint Peter, who became one of the founders of the Catholic Church and was executed in Rome and buried where the Basilica now stands.
Inside the Basilica
St Peter's Basilica can accommodate 20,000 people. It measures 190 m (624 ft) long and the central nave is 46 m (150 ft) tall. The dome stands 136 m (447ft) tall.
Inside, visitors will find extremely impressive pieces of art, including St. Peter's Baldachin, a large bronze baldachin designed by Bernini, The Pietà, a sculpture by Michelangelo, and the statue of St Peter on his throne. St Peter has his right foot worn down due to the touches of the devoted.
The Dome
One of the most impressive parts of the Basilica is its incredible dome. Its design was started by Michelangelo and continued by Giacomo Della Porta. Carlo Maderno finished the dome in 1614.
This dome has served as inspiration for many other cathedrals and buildings, for example, the Capitol in Washington and St Paul's Cathedral in London.
Visiting St Peter's Basilica
Visiting St Peter's Basilica is an unforgettable experience when staying in Rome. Visitors mustn't miss out on climbing to the top of the dome, where a stunning view of St Peter's Square, and if the day is clear of most of the city, awaits them.
Climbing to the top might prove to be a little oppressive for some, as the last part of the ascent is a narrow and steep spiral staircase.
Taking a Tour
If you want to visit the Basilica, the Vatican Museums, and the Sistine Chapel, with a local guide and skip lines that can sometimes last 4 hours - we recommend reserving a guided tour of the Vatican. You'll see all the essential sights, and save time which you can use to enjoy the city.
Schedule
October – March: 7am - 6:30pm
April – September: 7am – 7pm
The dome opens at 8am and closes one hour before the Basilica.
Transport
Metro station: Ottaviano, line A (red)