The Metro of Rome only has three lines and is currently the smallest metro system in Europe. Nevertheless, it reaches the city's most important landmarks. 
Opened in 1955, the metro (subway or underground) in Rome has grown very little by little and currently only operates 37,3 miles (60 km) made up of three lines. It is one of the smallest metros in Europe.
At present, there are plans for the creation of a fourth line. The reason why the metro system is so limited is that each time a new tunnel is built, more archaeological remains are found; something which also happens in Athens.
Most important metro stations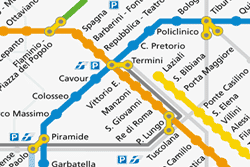 Rome Transport Map
Although the metro only comprises three lines, it gets to most of the city's top attractions. These are the most important stops to keep in mind:
Line A (Orange)
Line A runs from the northwest to southeast, from Battistini to Anagnina. The most important stops are the following:
Line B (Blue)
Connects the northeast to the south of Rome, from Rebibbia to Laurentina. The most important stops are the following:
Termini: Stops at Roma Termini railway station. Here, visitors can take the Leonardo Express to get to Fiumicino Airport.
Colosseo: Located near the Colosseum and the Roman Forum.
Piramide: If you come in the FR1 regional train from Fiumicino, you will be able to take the metro from this stop.
Where to get a ticket?
Tickets can be purchased at the metro stations, at news-stands and in most corner shops. If you are planning to use public transport regularly we recommend that you buy a few tickets at a time or buy a travel card.
Opening times
The metro opens every day from 5:30 am to 11:30 pm. On Friday and Saturday, the metro runs until 1:30 am.  
Fares
If you'd like more information on the fares, discounts and the various travel cards, check out our article on tickets and travel cards in Rome.